For AiB readers who don't catch my posts on Slugger O'Toole, Belfast readers may be interested to hear about the East Belfast Speaks Out community hustings event which was back for a third year on Thursday evening.
Having eliminated the warm up act, this year it was straight into questions after a brief introduction from chairperson Mark Devenport.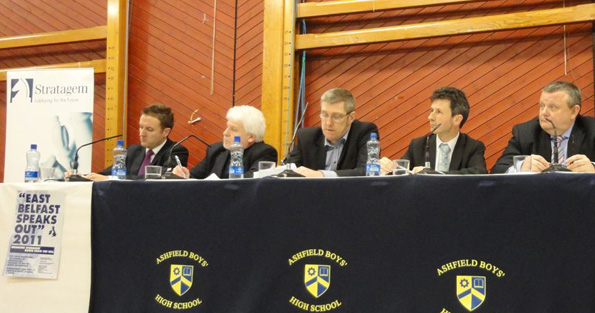 The panel consisted of Alliance MLA Chris Lyttle, DUP MLA Sammy Douglas, Sinn Fein Education Minister John O'Dowd, UUP MLA Michael Copeland, PUP councillor John Kyle. (For the third year in a row, Owen Paterson didn't turn up at the event. For the first time, the reason may have been that he wasn't invited.)
Women were under-represented on the panel – though Chris Lyttle was a late substitute for Judith Cochrane who was originally meant to be representing Alliance. However, the audience was very mixed, and my recollection is that a shade more than half the questions came from women in the packed school assembly hall.
Avoiding the pitfall of allowing each panellist to comment on each question, panel were steered through an enormous number of questions:
> What's been done to help young males in East Belfast?
> Educational underachievement in (Protestant) males.
> Educational maintenance allowance.
> Why is doing four or five exams in a strange school better than sitting two in a familiar place?
> Supergrass trials.
> Increasing number of unemployed graduates.
> Bill of rights.
> Cutting school budgets and the SEN review.
> Integrated education rather than sectarianism.
> NI Housing Executive complaints.
> Belfast City Airport.
> Supergrass trials again, brought up this time by a representative from FAST.
> Difficulty a family faced getting suitable rented accommodation when their child was ill and had to use a wheelchair.
> Corporation tax.
> Young people leaving NI to study elsewhere.
> Mental health issues.
Drama came in the form of an intervention from Occupy Belfast. Reading from several pages of notes, the man asked about Iris Robinson and a sum of £5,000 before going on to decry politicians over the course of the next few minutes. John O'Dowd's challenges to him proved too much and the gentleman left the hall of his own accord. The protester's performance unfortunately did little to bring credit to the Occupy movement, nor to highlight any of the group's issues in a manner that would encourage members of the audience to explore them.
Jenny Muir has an excellent summary of the evening's event on her blog –
East Belfast Diary.
Kudos to James Smyth and his team for pulling together the event and handing over control to those who attended.