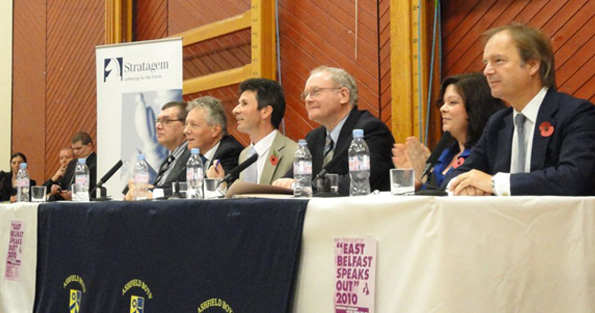 Someone said it was only the second time that Peter Robinson and Martin McGuinness had appeared together as MLAs (rather than ministers) on the same panel since they formed their FM/dFM partnership. They were joined by Dawn Purvis, Hugo Swire and Liam Clarke.
Security constraints prevented the disclosure of full panel in advance, and the small matter of the Manchester football derby, meant that organisers worried the numbers attending might be low. But the hall in Ashfield Boys School was packed for more than 400 people, with extra chairs brought in, and eventually some people had to be turned away. (Speaking afterwards, Martin McGuinness indicated that he'd have preferred if the organisers had been able to publicise their names.)
It was noticeable that the local politicians on the panel were being particularly good natured. The hard and cross Peter Robinson had been replaced with a calm, confident and patient one. There was no sign of the abruptness that has been visible in some of his media appearances during 2010. He was able to talk about Irish unity and say that the decision was in the public's hands and not those of politicians without immediately saying that of course it would never happen.
At no stage did Martin McGuinness or Peter Robinson contradict each other. Often they endorsed each other's words (and those of other panellists). Either the thermostat in the OFMdFM offices has been turned up from frosty to moderate, or their back room staff had agreed some ground rules for the event.
During the evening, the panel chewed through a wide range of topics – much more effectively than last year. Lots of young people participating and overall more women than men asking questions. For a town hall event, it was warm, audible, genuinely unorchestrated, and open to anyone who turned up in time. A good night for holding politicians to account.
Who would have thought that at the end of the night Martin McGuinness would have the biggest crowd standing around him wanting his autograph!
Dan Gordon started proceedings by reading out a letter from Red Hand Luke who was on the run on holiday. The audience took a while to warm up – perhaps a sign that the hall was full of normal members of the public and not just political nerds – and enjoyed the election posters and wigs towards the end.
Mark Devenport chaired the evening, a "one man peace wall" sitting in-between the First and Deputy First Ministers Peter Robinson and Martin McGuinness. He deftly introduced a light touch of hunour every now and again, and frequently sought out audience views inbetween panelists' answers. He kept the introductions mercifully brief, and started with the only prepared question:
"Is Northern Ireland over-governed and how would the panel go about reducing this to a sensible level?"
Liam Clarke, journalist and commentator, was the first of many to refer to Mark Durkan's phrase describing the local political institutions as "ugly scaffolding" that brought NI to a position of stability. Dawn Purvis, ex-leader of the PUP and now independent MLA, suggested that "We need to work at making our Assembly more representative of the people it's meant to represent."
Peter Robinson admitted "I don't think there's any argument to be put up that we're over governed. The issue is whether that is a bad thing. It's understandable how we got there.". He pointed out that we have between two and three times the number of assembly members than in the respective institutions in Scotland and Wales. "There's no argument that it makes it more representative, but it's more expensive."
Martin McGuinness said that the "first thing we need to remember that this isn't Scotland, this isn't England, this isn't Wales." After 70 or more years of conflict the "institutions were designed to be as representative as possible". He would have favoured seven rather than eleven departments that would have undoubtedly made government more efficient. He pointed out that the coalition government in Westminster will be reducing the number of constituencies which will have the knock on effect of shrinking the number of MLAs.
Minster of State Hugo Swire – who was standing in for the Secretary of State Owen Paterson – nearly missed his chance to reply to the question. Peter Robinson quickly pointed out that he was the "Tory on the far left" of the panel.
For the second year in the row, Jim Wilson caught the chairman's eye and got to ask the first question from the floor. And in a repeat of last year, he asked the same question:
"Do the panel think the Historical Enquiries Team is the best way to move our society forward?"
He went on to point out that 84% of HET cases are focussed in loyalist areas, which doesn't reflect the balance of crime across the troubles.
Dawn Purvis questioned "How do we as a society find a way to deal with the past? The HET is one method of dealing with the past. But the inherent flaw is that there is no cooperation from former combatants."
Peter Robinson said that "If you looked at the level of success versus the amount of money being put into it then you might ask questions. But then there is the other side, the victims." He went on to suggest that "if people committed a crime, then as long as you can get appropriate evidence, they should be brought to justice" but "it must be even handed".
From the floor, someone working at the WAVE Trauma Centre asked "What is the beef with anti-peace republicans and anti-peace loyalists?"
Martin McGuinness responded "On the republican side and I use the word in inverted commas, the people there [dissidents] don't represent the vast majority of people in republican and nationalist areas who want to join with their loyalist and unionist neighbours."
"Every bullet they fire, every bomb they explode, doesn't weaken us, but makes us stronger, and unites the Executive. We're absolutely united in the Executive against these people. Their activities are futile, and they do a great disservice to their families and the causes they think they represent."
Peter Robinson was next saying "Martin's right." He said that the dissidents no doubt believed that "the assembly is shaky and will crumble at the first sign of dissident activity … leading to the collapse of Stormont". They had killed two soldiers and a serving policeman. "Did it tear us apart? No. It brought us together. The assembly came in the next day and condemned it to a man and woman."
The debate segwayed into Cohesion, Sharing and Integration.
There was at least one bus load of WIMPS representatives in the hall, along with others from the Northern Ireland Youth Panel. A WIMPS rep expressed her disappointment that Gerry Adams hadn't responded to their request to meet. Martin McGuinness offered them a meeting and said he'd bring Gerry along.
Martin McGuinness admitted that both the DUP and Sinn Fein had made compromises over the inclusion of material in the CSI document. Later Peter Robinson responded to the criticism that CSI omitted dealing with the gay community, saying that another specific strategy was already being worked on to look at LGBT, and that the purpose of the CSI document was to address sectarianism and racism.
Peter Robinson said "It's very clear that we live in a deeply divided society. Intrinsically divided. I want us to have a shared society. That doesn't mean I expect Martin to go around waving a union jack or that I will start learning Irish." But he called for "a much greater respect" for each other's cultures.
Jenny Muir from East Belfast Diary (who has posted a great write-up of the evening) asked whether the panel would consider moving to a system of voluntary coalition.
Peter Robinson said that "I would have never have chosen the kind of structure we have at Stormont. It's unwieldy." But "as we progress as a society we will normalise." He called on young people to get "involved in every aspect of political life".
Hugo Swire admitted "It's quite an unwieldy structure but it's a hell of a lot better than what went before."
Gillian, a local resident, reset the debate and brought the panel's attention to the future.
"The words I've heard tonight are very encouraging about reconciliation and shared future. But what will it be like in 10 or 20 years' time? Sinn Fein are still very committed to a United Ireland and the DUP are committed to UK integration. Where do you imagine this country's going to be politically and strategically in 10-20 years?"
Martin McGuinness pointed to their achievements thus far. "Up until three or four years ago Peter Robinson and I had never had a conversation about anything." He recounted an early conversation with the previous First Minister Ian Paisley who had said "Martin – we can rule ourselves. We don't need these direct rule ministers coming over here to tell us what to do."
We went on to explain "I regard Ian Paisley and his wife as a friend" and echoed earlier statements that political compromise had been an inevitable part of the peace journey:
"As a Irish republican I had to compromise … It was a good thing we done on behalf of the people we represent."
A woman in the audience accused the panel of "retrospective backslapping – we want to hear more about the future."
A male local resident asked "Given the locus of power in East Belfast [in terms of the number of party leaders and ministers] why is voter turnout so low?" There was a run of questions from the floor asking about capital cuts, water charges, university fees, public sector job cuts, corporation tax and plans for a special enterprise zone.
Peter Robinson said he was concerned at the effects of the likely corporation tax proposals. "There's a bit of the Ballymena in me. I want a corporation tax deal, but I want a good one."
Regarding sovereignty, Peter Robinson said that neither he nor Martin would decide about a united Ireland. It would be the public.
In one of only two cross moments during the whole evening, Hugo Swire retaliated back at Peter Robinson quoting the EU's Azores ruling. Peter parlayed back.
The other moment of tussle came when after the audience applauded Martin McGuiness' statement of disappointment that Owen Paterson hadn't turned up at East Belfast Speaks Out for the second year in a row.
Swire called it an "uncharacteristic attack from Martin" affirming that he was Minister of State and that the whips would not allow the Secretary of State to miss important votes in the Commons. They Work For You website suggests the Commons was voting on the Support and Protection for Elderly People and Adults at Risk of Abuse. (The government comfortably won 296/40 and defeated the amendment 76/301.)
Dawn quipped "Can I come back to the future?" Going back to the mention of sovereignty, she said "people are concerned about housing and the money in their pocket … they are less and less concerned with green and orange." She went on to address an earlier question about university fees. "This is an elitist group of people who are wanting to make universities more elitist. I went to university and I'm still paying off my student loan."
I asked Dawn Purvis about Peter Robinson's performance.
[Alan] Is that a confident Peter Robinson emerging from the shadow of earlier in the year?
[Dawn] I think it's a confident unionism starting to emerge from the DUP that probably we haven't seen and probably we're beginning to see now. And that's a good thing.
[Alan] Do you think they'll keep it up as they come up to the election?
[Dawn] Well the fear is that people will go back to the trenches because that's what usually happens. But I think we've seen magnanimity from the First and deputy First Ministers and I hope we see more of.